What to read and watch before you play the Tony Hawk remake
And wait a moment, is the Avengers game actually good?
[Hi, I'm Chris Plante, and you're reading Postgame, a weekly newsletter collecting the best games, stories, and videos in the video game community into a fun, digestible package on Wednesday and Sunday mornings. Learn more on the Postgame About page. Postgame is edited by Stephie Grob Plante. Want to support Postgame? Please share it with a friend! Or even better, visit my work-home at Polygon.com!]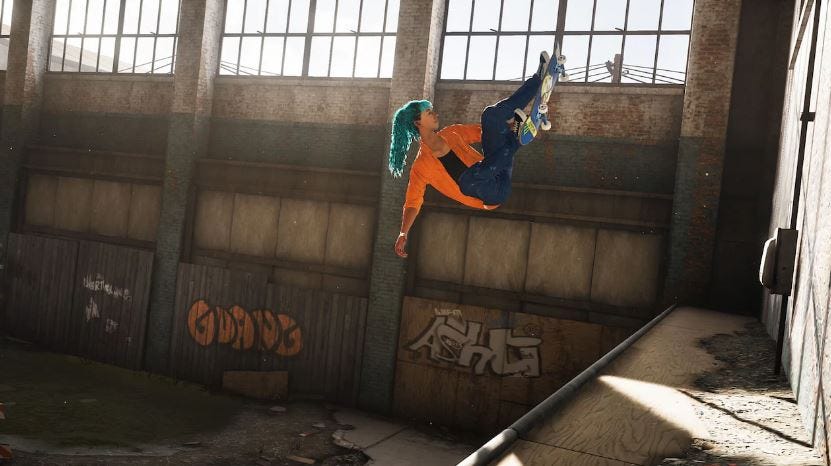 A shortlist of things to know before you play the Tony Hawk's Pro Skater remake:
---
The end of a perfect, little game studio
---
Strange days at the old guard
IGN China has returned, this time as a partnership between IGN and video game publisher Tencent. According to a report on gamesindustry.biz, "IGN China will be editorially independent from the rest of the Tencent Group. This is no doubt to assure there will be no bias given the stakes Tencent has in multiple major games firms."

But, also…
IGN's business model has spread the brand across a staggering 29 international divisions, making it a turnkey solution for marketers who hope to make a big, simultaneous announcement across the world. An outpost in China will presumably be beneficial to IGN's entertainment division, as China becomes increasingly influential in both producing and distributing films.

IGN wasn't the only old guard publication in the news for unusual partnerships: on Tuesday, GameSpot tweeted a custom promotional video for the National Guard, along with a link to the Guard's website.
---
Five games to play
After a disastrous E3 2019 reveal and a befuddling marketing campaign, Marvel's Avengers has been getting pretty okay reviews. I've played the first couple hours of the campaign, and: It's charming! Plus, it looks great. The final art is a significant improvement from that early demonstration and its "like the movies but not" character designs.
"The full game opens with a very young Kamala Khan, who's not yet gained her Ms. Marvel stretchy powers, attending the A-Day celebration in San Francisco with her father. She's part of a group of kids who won a trip in an Avengers fan-fiction contest, which is very on-brand for Kamala." (Mike Fahey, Kotaku)

"Every looter struggles in the early days, and it would be naive [to] think a studio that's never made a game of this type before would nail it right out of the gate. That being said, it's already in way better shape than I ever expected it to be at launch, and, most critically, the combat — particularly in multiplayer — is an absolute blast. I'm hopeful, and I'll be sticking around to see where things go from here." (Eric Switzer, TheGamer)
Marvel's Avengers is available on PS4, Xbox One, PC, and Stadia.
Are we seeing formerly "niche" genres go mainstream because fans and critics alike have more time at home during the pandemic to try new things? Or perhaps because these games are available on Xbox Game Pass?
"You are once again the head of an early medieval dynasty, and you'll try to keep it trucking for as long as you can by click, click, clicking on its elaborate map and stacks of menus. Your tools are diplomacy, intrigue, warfare and luck, and your goals are whatever whims your mind conjures up." (Fraser Brown, PCGamer)

"During one playthrough, I successfully waged a war against a neighbor only to spawn a second conflict for the same territory within my own dynasty. Often, the only way to prevent one good scheme from going sideways is to hatch two or three bad ones, and dealing with the fallout from your own evil actions is more than half the fun." (Charlie Hall, Polygon)

"This is a game for people who are nerds about people, and why they act the way they do." (Gita Jackson, Vice)
Crusader Kings III is available on Steam and Xbox Game Pass PC.
Tony Hawk's Pro Skater 1 + 2 is available on PS4, Xbox One, and PC.
"Raji's a shortish game but a very rich one - the sheer scale of environments and the sense of adventure is properly intoxicating. More than anything I was left with gratitude: this game gave me a window into another culture and I want to know more." (Christian Donlan, Eurogamer)
Raji: An Ancient Epic is available on Switch, and will hit PC, Xbox One, and PS4 later this fall.
I haven't had a chance to play this just yet, but I'm digging the Steam synopsis:
"Paradise Island, a world outside reality. There's been a murder that only 'investigation freak' Lady Love Dies can solve. Gather evidence and interrogate suspects in this open world adventure. You can accuse anyone, but you'll have to prove your case in trial to convict. It's up to you to decide who's guilty."
Paradise Killer is available on PC and Switch.
---
Three videos to watch
Spot the difference: flight simulator edition
I can't tell you what this game is, but I'd like to play it ASAP.
What if… Digimon had beaten Pokémon?
---
Four stories to read
---
The best of the rest
---
Ephemera
Sports are very, very good.
---
But what do you think?
Send links, tips, comments, questions, games, and good-bad tattoos to @plante.
That's a wrap. See y'all next Sunday. Wear a mask!