[Hi, I'm Chris Plante, and you're reading Postgame, a weekly newsletter collecting the best games, stories, and videos in the video game community into one welcoming package. Learn more on the Postgame About page.]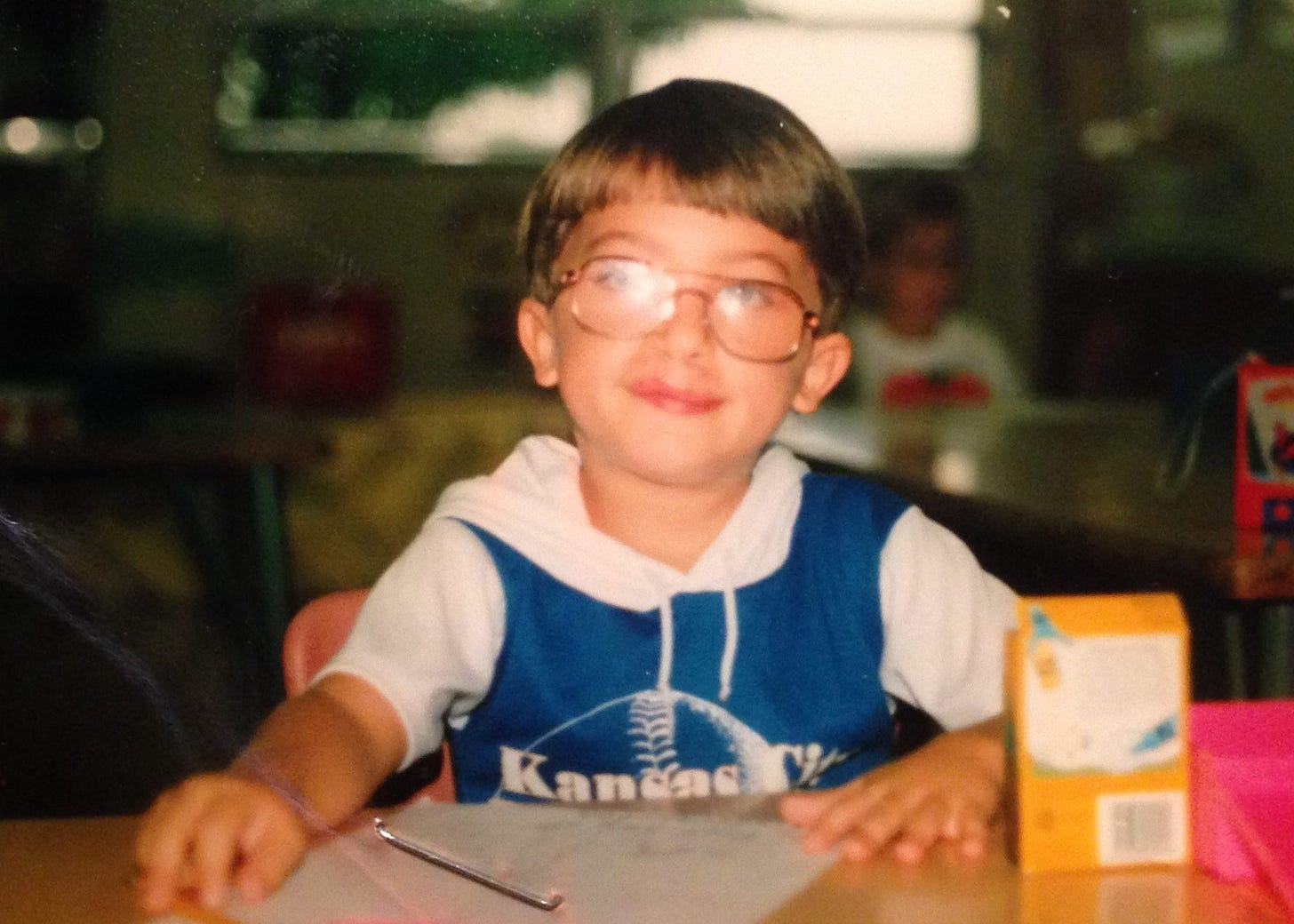 From the desk of Chris Plante:
I spend a non-insignificant amount of time explaining the minutiae of video games to people who are, at most, "video game-curious." This is, without question, the best part of my job.
Games are fun, but the community can feel impenetrable, inaccessible, or just plain intimidating. I love an opportunity to rip down the walls — it's been my central focus during my tenure as the editor of Polygon.
These folks (family and friends, marketers and co-workers) haven't dedicated decades of their life to memorizing the names of defunct 1990s arcade manufacturers, but Animal Crossing or Madden or Fortnite has sparked a flame they hadn't felt for years. And now they want to know more. Much more.
They ask delightful questions, like…
What are parasocial relationships?
Or, what is a shmup?
Or, did Nintendo really release a haunted video game called Pokemon Black?
I've appreciated, over time, that even people who don't think about video games on a weekly basis somehow, almost instinctively, sense the medium's immense and magical weirdness. It's like a scab they can't help but pick loose.
In the past year, I've hoped to see more mainstream publications meet this audience. Some publications followed the lead of gaming outlets, like Washington Post's games vertical, Launcher. But broadly speaking, mainstream papers and magazines have done the bare minimum to serve the average person, the reader who probably doesn't routinely visit sites like Polygon or Eurogamer or Kotaku, and hasn't heard about indie blogs producing criticism that they would love if they only knew it existed.
In a pandemic, for example, The New York Times is still publishing more writing on live theater than they are on games. Considerably more. Of course I'm not saying we should have less coverage of theater, but there should clearly be comparable writing on games, a medium that is thriving and, thanks to smartphone and PC ubiquity, has a daily audience in the millions.
So, it's time for me to stop whinging and do my part. This newsletter is my best attempt to chronicle what's happening in the world of video games, not only for people who have esoteric video game bumper stickers and can speak fluent "Twitch emoji," but for everybody.
A truncated list of potential readers of Postgame:
Casual gamers who think Animal Crossing is only an iPhone game

My parents, who still aren't quite sure how I pay my bills

Your co-worker who saw a trailer for the new Call of Duty and noticed video games sure have come a long way since Pac-Man

420-no-scope gamers who get lifelike tattoos of Hideo Kojima
This newsletter also hopes to fill a void left by my personal favorite newsletter, Simon Carless' Video Game Deep Cuts, which came to a (temporary?) end last weekend. (Simon is still publishing the Game Discoverability Now! newsletter. If you like getting into the weeds of the games industry, I can't recommend it enough.)
And lastly, I want to spotlight the more hardcore weekly collection of games criticism: Critical Distance. If this newsletter feels a bit too superficial, if you want something that goes deep into the gritty details of video games criticism, you should subscribe to their Patreon.
With that, on with the newsletter…
---
Free game of the week
The Outcast Lovers is on the top of my to-do list. It's currently free on itch.io, so I'm including it this week, having not played it, so that you can take advantage of a good deal. (And consider donating to the developer via Patreon.)
The adventure game is the second part of a series of short, experimental narratives. Here's what Shonté Murray-Daniels wrote at Kotaku about its predecessor, The Night Fisherman:
"With so many to choose from, I decided to play The Night Fishermanby Far Few Giants as my first. It's a short, emotionally intense game about a fisherman being interrogated by an armed man while out at sea. While it's not a commentary on the protests happening now, The Night Fisherman does deal with racism and violence in a way that feels both poignant and relevant to this moment."
---
Three games you should play
Also on my to-do list for the weekend: grab tickets to VR theater. A handful of folks on Twitter have flagged Tempest, the latest show in The Under Presents, a series of "multiplayer experiences" that blend live theater and VR games. Imagine the Off-Broadway interactive theater hit Sleep No More, except you can actually attend during the pandemic.
The project comes from studio Tender Claw, which has become one of my favorite indie teams, both as a developer making the most of the more sensory pleasures of VR, and recently as a publisher, bringing to market the lovely Wide Ocean, Big Jacket.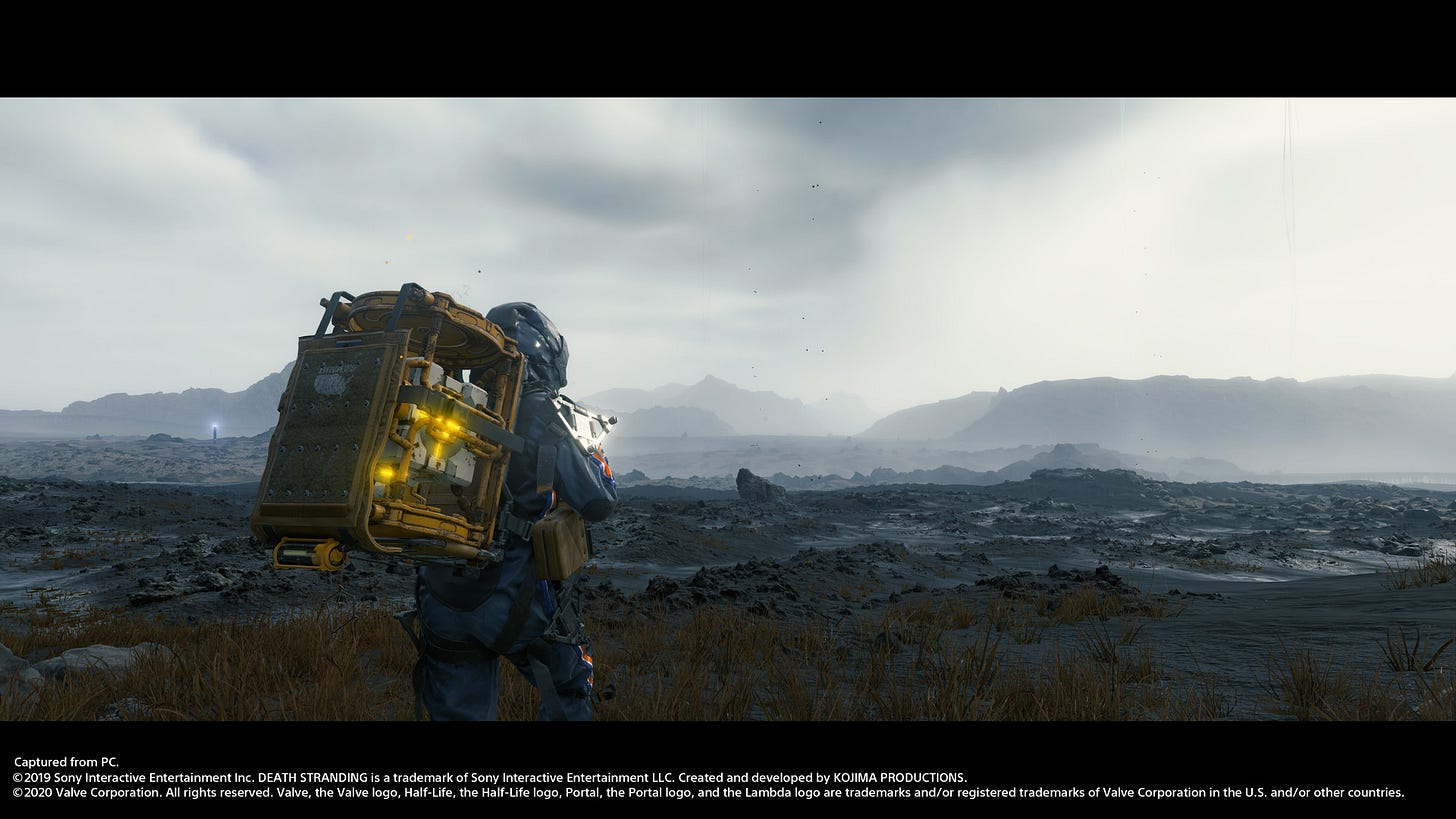 Is Death Stranding the most prescient game of this generation? Maybe. Possibly. I think so?
A few months back, I only lasted a few hours with the PlayStation 4 release. But I've begun the adventure anew on PC amidst the Covid-19 crisis and, well, maybe I do need an on-the-nose sci-fi story about the life of under-protected delivery people in the time of American collapse.
If you haven't read Heather Alexandra's review at Kotaku, make the time. Don't Pocket it or save it in a tab that eventually causes Chrome to crash.
I was playing a portion of Death Stranding that was miserable, which gave me the harshest environment and robbed me of essential tools. Cold lapped at my face, steel girders popped out of the snow like massive crucifixes. For two nights, all I knew was snow and acid rot. All I knew was white. Then I came over a ridge and saw green again. Glorious, growing grass. I wish I had the words to describe what it meant to see the color green again. It wouldn't have mattered nearly as much if I didn't put in all that goddamn work beforehand. I don't think you can do that with a montage or smash cut.
Alexandra left Kotaku for a role at video game studio and recent Microsoft acquisition Double Fine (Pyschonauts 2, Costume Quest), but she still shares some of her critical thoughts on Twitter.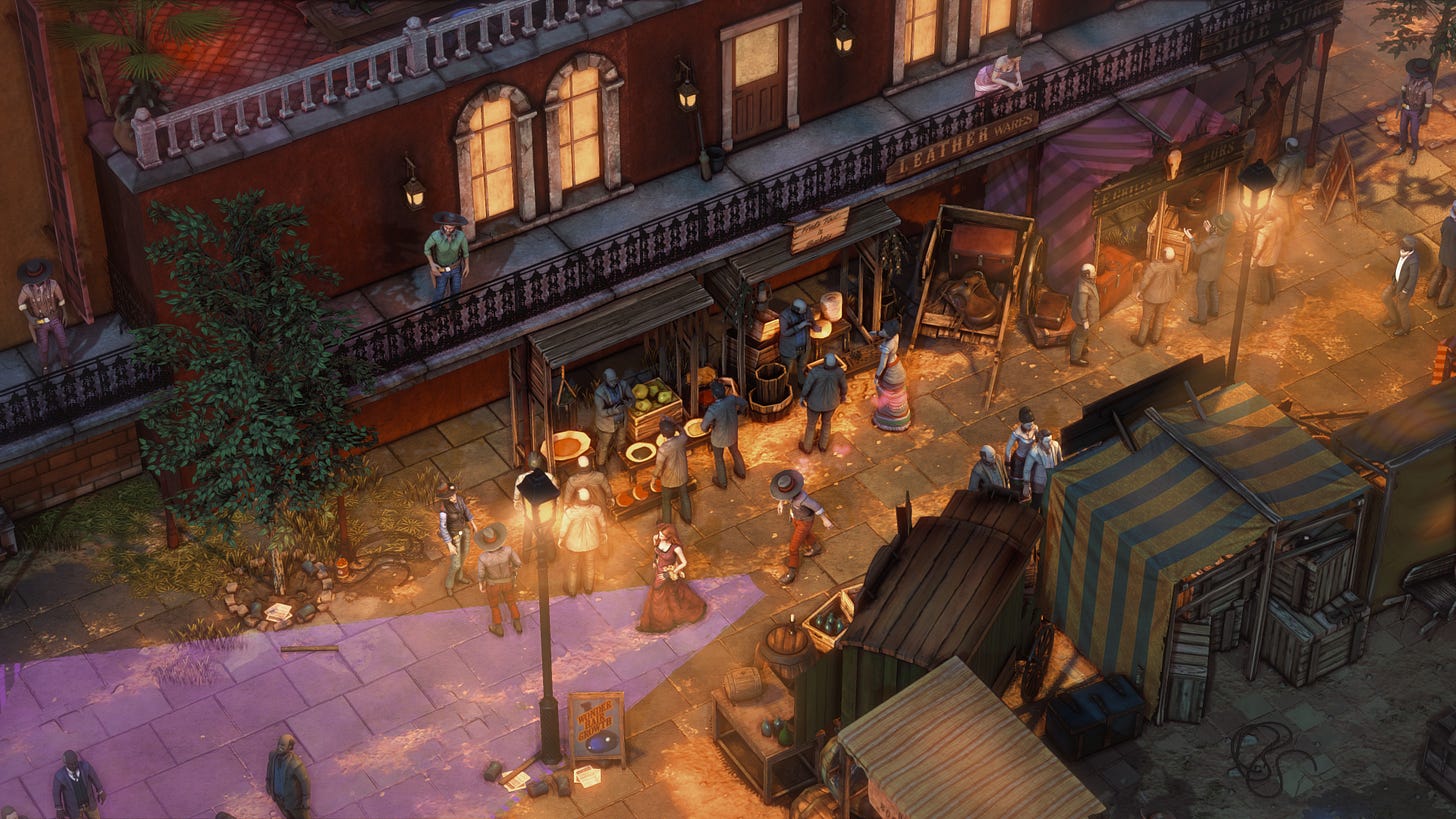 I spoke about my love for Desperados 3 on this week's episode of The Besties, the podcast I co-host for Spotify. If you don't have enough time for the full episode, skip to the 45:15 mark.
Something I didn't mention on the podcast is that the game owes as much to classic western films as it does to Looney Tunes. Here's Tim Stone at Rock, Paper, Shotgun on the game's unapologetic silliness:
"Of the hundreds of killings I've precision engineered thus far, my favourite is probably a recent one involving a moving freight train and a sentry lured onto a railroad track by a perfectly timed "I'm-over-here!" whistle. I'm smiling just thinking about it."
---
Four stories you should read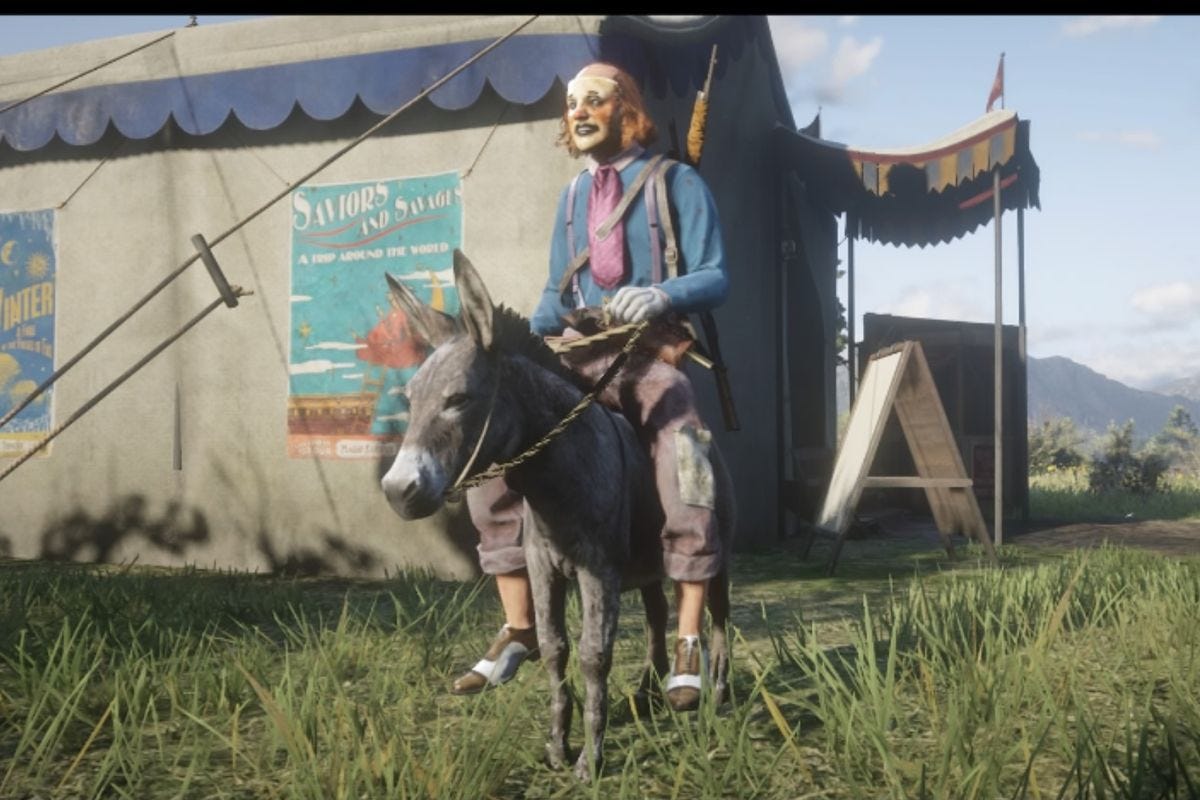 Patricia Hernandez via Polygon
I'm biased, but every Patricia piece is a gem. Her work reminds me of 1970s live music scene reporting, taking you through a world so weird, so full of passionate humans, you can hardly believe it exists.
"From there, the usual shenanigans ensued: the clowns took over locales, like bars or hijacked trains, and proceeded to wreck havoc. The event has since gotten some attention from the wider community, with more players also dropping into games dressed as jokesters. The Discord is now also full of photos of people participating in the "protest," some as clowns, and others fulfilling the more general circus theme."
Yussef Cole via Bullet Points Monthly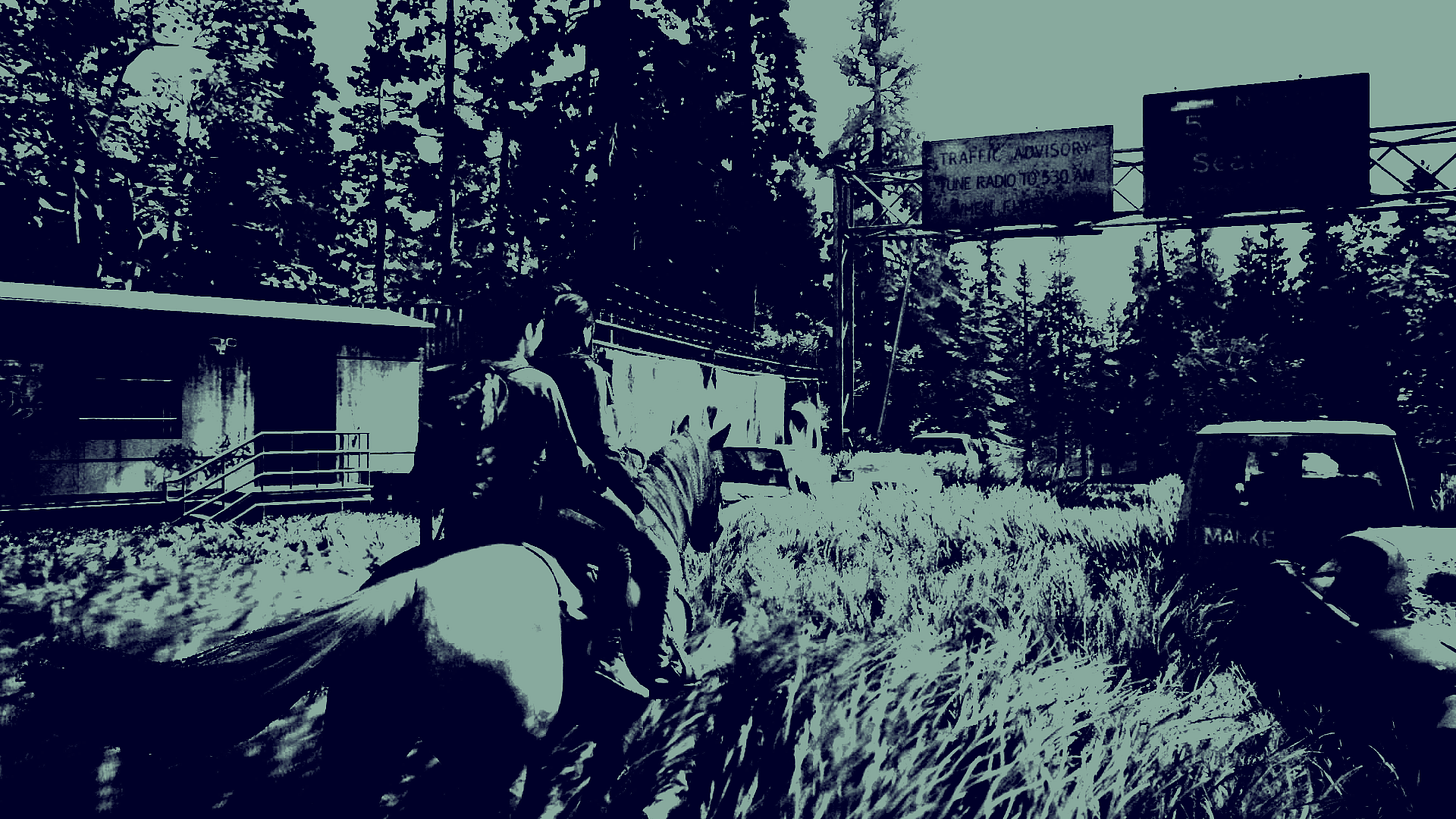 I don't know how Yussef Cole manages to write challenging and thorough games criticism while also being the Creative Director at Netflix's Patriot Act with Hasan Minhaj. I'm grateful.
Cole's latest essay weaves together the history of the American West, white colonizers, gun culture, and the racial division between suburbs and cities to make some sense of what The Last of Us 2, the biggest game of the year, is saying. Or trying to say.
"The apocalypse, at least the genre-bound version that The Last of Us Part II depicts, is a resurrection of the idea of the frontier in the same way that white Americans' obsession over hoarding stockpiles of defensive weaponry has always been. Cowboys are finally back, and their endless arsenals with them. The premise that supports both prepper fantasies and suburban paranoia is the same: protect your own, enforce your borders, shoot first and check the bodies later. It's what drives our protagonists to do the violence they do, and it sits quietly in the background of even the game's most peaceful scenes and its most communal spaces."
I came away from the piece having learned more about our world than the game, which, honestly, what a blessing. I found the game's story cynical and its violence unnecessarily grotesque, but it's inspired some excellent criticism from fans and skeptics alike.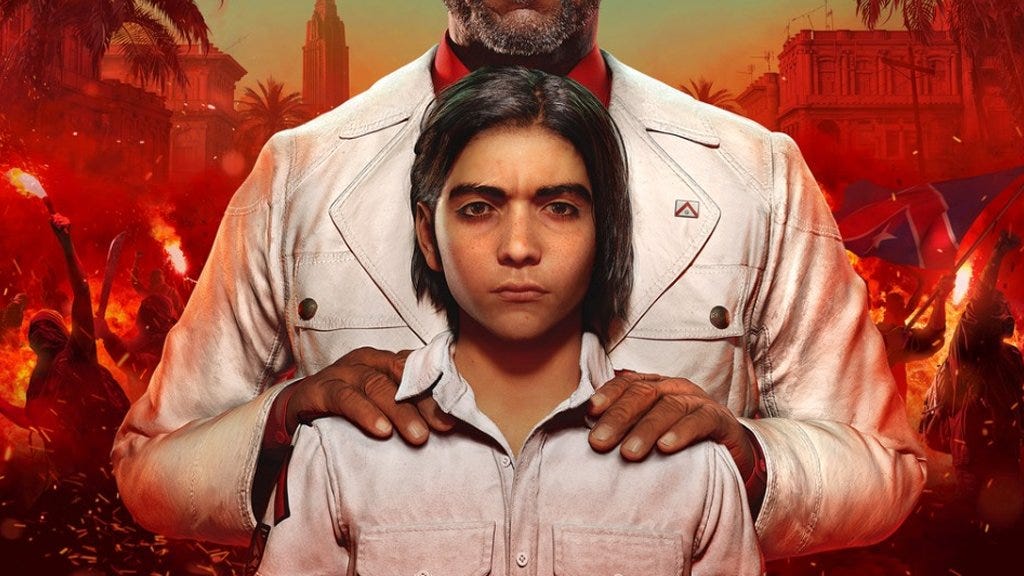 Natalie Flores is on a hot streak. Here's her full collection of stories at Fanbyte, however if you only have time for one story, make it this piece unpacking the infuriating fashion with which big budget games have presented Black and brown characters in 2020.
"I wonder when any game, especially a prestigious one, will come close to how Life is Strange 2 handles not just its Latinx characters, but also discussions on race and power dynamics. Through my interview with Life is Strange series co-director Michel Koch, I learned how easily achievable the bare minimum, and so much more, is with proper research and care. It doesn't take a team composed of only people who know The Latinx Experience — especially because no single group, particularly one as infinitely diverse as Latinx people, is a monolith; it takes a genuine interest, an honest commitment to listening, and a dedication to improving a story's writing, no matter the subject."
Flores' exhaustion with AAA game creators reminds me of something Josh Rivera wrote in his farewell post at Kotaku about the experiences of queer and BIPOC journalists and critics:
The world is going to lose patience for me. The universe tends toward entropy; progress is not the natural arc of our culture. It must be advocated for passionately, with superhuman stamina and stubborn persistence. The media industry is collapsing, and with collapse comes retreat: to safety, to what is known, to what has worked before. You know what didn't work before? A diverse industry full of queer and brown reporters and critics, paying attention to the sort of things their white colleagues would never have noticed, speaking to those communities in their own language. It's never worked because it's never been allowed, and therefore it's a risk. Risks are hard to come by in a time of crisis.
Kaile Hultner via No Escape
I learned about this piece through Critical Distance. It's not an essay that makes a grand conclusion; it's a set of critical prompts, building off this mind-igniting lede:
One thing I haven't seen a lot of writing about, especially surrounding "geek culture," is what maturity is supposed to look like for millennial and gen z folks.
As I get older, this question is like a drain that my mind keeps circling.
I suppose I worry about this unspoken, unilateral assumption that video games should grow up. Which isn't to say video game culture shouldn't mature. We must all work to do away with the racists and bigots, developers should find ways to organize and undercut corporate boards busy syphoning every dollar they can, and we absolutely must create a place that doesn't just foster diverse voices and audiences, but maintains that space so all voices feel welcome to stay.
But growing up? That's complicated. It entails a seriousness that I find… unnecessary?
I want more puerile games. More sexy games. More angry games and sad games, games without stories or visuals or goals or purpose. I trace the road blockbuster games have taken this generation, and I worry that the creators with the biggest budgets have fixated on "grown-up stories," ignoring the less worn, and often more interesting paths.
Grown-up games are fine, but there are so many other directions for games to grow.
---
Four videos you should watch
Is Your Copy of Sonic Rare?
Chris Kohler, Complete in Box via Kotaku
After 20+ years in games media, Chris Kohler is leaving for something different. Wherever he lands, it won't be a games publication and that's a drag. (For us, probably not as much for him.)
As long as I've followed the gaming community, Kohler and his regular collaborator Jeremy Parish have been my guides through the cobwebbed world of retro games. Podcasts like Retronauts, which is still running under Parish's purview, were my first contact with detailed, bordering on obsessive, discussions of seemingly trivial things, like, oh I don't know, let's say the ill-conceived Atari Lynx.
Kohler and Parish's unabashed enthusiasm showed me how I could build a career, and a life, around this medium that I love. How I could take my craft seriously without taking everything so seriously.
Their work has played a considerable role in preserving the history of an industry that has treated even its most precious artifacts as rubbish. For the first time in over two decades, neither will be actively working in media. Kohler kindly sends us off with one final video in his series Complete in Box, a sort of Antiques Roadshow for the video game set.
Fortnite: The Party That's a Platform
Errant Signal
Yes, it's a video about Fortnite. Yes, you should still watch it.
The Evolution of Speedrunning
Karl Jobst via YouTube
I've long wanted a video explain speedrunning that I could share with friends who ask, "What the hell is speedrunning?" Because, what the hell is speedrunning anyway?
Karl Jobst's latest piece, summarizing the history of speedrunning, is the best example I've seen yet, going deep into the hobby without relying too heavily on jargon or falling too deep into speedrunning's many rabbit holes.
Crysis Remastered Running on the Nintendo Switch
Crytek via YouTube
The video game that turned 2007's most expensive gaming PCs into molten lava now runs on a $299 Nintendo Switch — with compromises aplenty.
As Ian Malcolm said, "Your scientists were so preoccupied with whether or not they could, they didn't stop to think if they should."
---
Ephemera
Feels Good Man
Ready Fictions via YouTube
Polygon's Sr. Entertainment Editor Matt Patches has been singing the praises of this film since he saw it at Sundance. Looks good man.
theGaffe via Reddit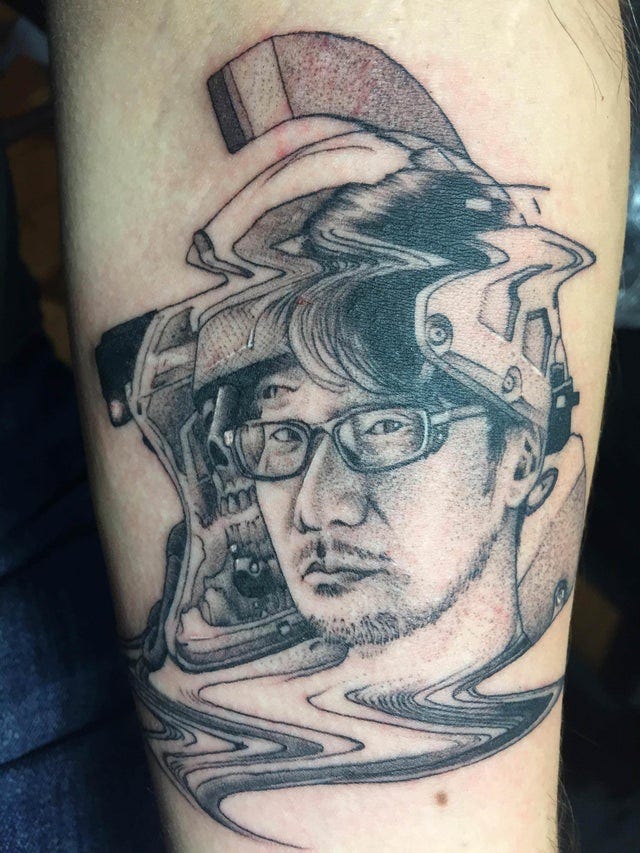 Callback.
Me via Polygon
And to close the debut of my newsletter, some thoughts on a video game I assumed I would never get to play. At least not legally.
"Here's what I knew about Darius before I downloaded the collection onto my Switch: it's a series of beloved, but rare, shoot 'em ups in which you pilot a spacecraft and kill countless robotic fish in trippy intergalactic locales."
---