Discover more from Postgame
A video game newsletter for everybody -- by Chris Plante.
Over 2,000 subscribers
Hades slowly became one of 2020's best games
And I play the role of Halloween entertainment guide.
[Hi, I'm Chris Plante, and you're reading Postgame, a weekly newsletter collecting the best games, stories, and videos in the video game community into a fun, digestible package on Sunday mornings. Learn more on the Postgame About page. Postgame is edited by Stephie Grob Plante. Want to support Postgame? Please share it with a friend! Or even better, visit my work-home at Polygon.com!]
---
Every day this month, I'll be recommending a favorite TV show or film in honor of the best holiday: Halloween. Here's my plan in detail:
Heavens, I miss Halloween. As a kid in the Midwest, the holiday pulverized my senses: the potpourri of rotting leaves and Sunday barbecues, the whispers about the mysterious neighbor who never opened their door, and my friends with prosthetic gashes across their faces and plastic aliens bursting from their chests — what a sight.

Where did it go? I suppose there's no clearer sign that I'd grown up than when Halloween became just another excuse to drink and eat candy I'd never ever eat any other day. (Have you ever actually read the ingredients of a Butterfinger?) After I moved to Texas in my thirties and went full boring adult, my favorite holiday became little more than a reminder to get serious about saving money for Christmas gifts.

So a few years ago, out of disappointment and boredom, I sparked a new tradition by creating a Google Calendar for October, assigning myself one Halloween-friendly film or TV show per evening. I finally made time for monster-movie classics, and recaptured a fraction of that Ray Bradbury brand of October energy. Over the past few years, I've become increasingly obsessed with making and respecting the calendar. And with COVID-19 keeping me indoors this Halloween, it's become a fixation.

This year, I've decided to share the calendar with y'all. Hell, I'm already doing the work, so why not? Every day in October, I'll reveal a new film, TV episode, or online video for you to stream. Since you have a trillion choices, I'm arranging the entries in themes, each film complementing one another. I'm also providing some context to illuminate the experience. For example, I'm starting the calendar with "unconventional ghost stories." The ghost story is surprisingly popular among film auteurs who otherwise overlook the horror genre. The appeal of spirits connects directors from the Australian New Wave to Southern Gothic to, well, David Fincher.

If you're following along with the viewing choices on this calendar, I strongly encourage you to share them with a friend, even if you can't watch the picks in the same room or at the same time. One of the pleasures of great horror is its ambiguity, the empty space it leaves for us to insert ourselves and our own anxieties. It can spark epiphanies and conversation we might otherwise avoid. And what better time for us to communally process fear and trauma than right now?

Be sure to share your favorite Halloween-time favorites in the comments, too. Happy Halloween month!
Follow the daily updates at Polygon.
---
Three games to play
Star Wars: Squadrons
Crash Bandicoot 4: It's About Time
Grey Scout
---
Three stories to read
---
Three videos to watch
A chance to see how big YouTubers approach games criticism
A deep-dive into a handful of Xbox Series X features
It looks like the Tony Hawk devs snuck their kids' drawings into the game
---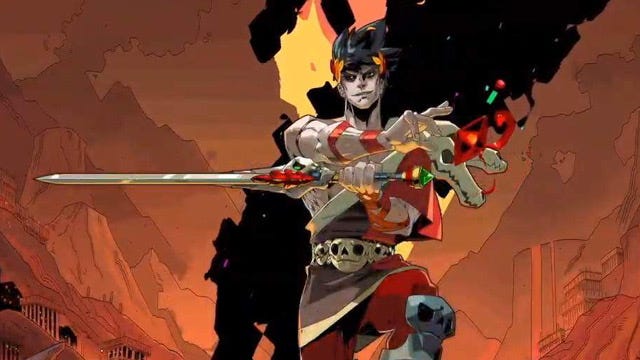 Yes, Hades really is as good as Twitter says
---
The best of the rest
---
Ephemera