A tiny game achieves a billion-dollar idea
[Hi, I'm Chris Plante, and you're reading Postgame, a weekly newsletter that collects the best games, stories, and videos in the video game community into a fun, digestible package on Wednesday and Sunday mornings. Learn more on the Postgame About page.]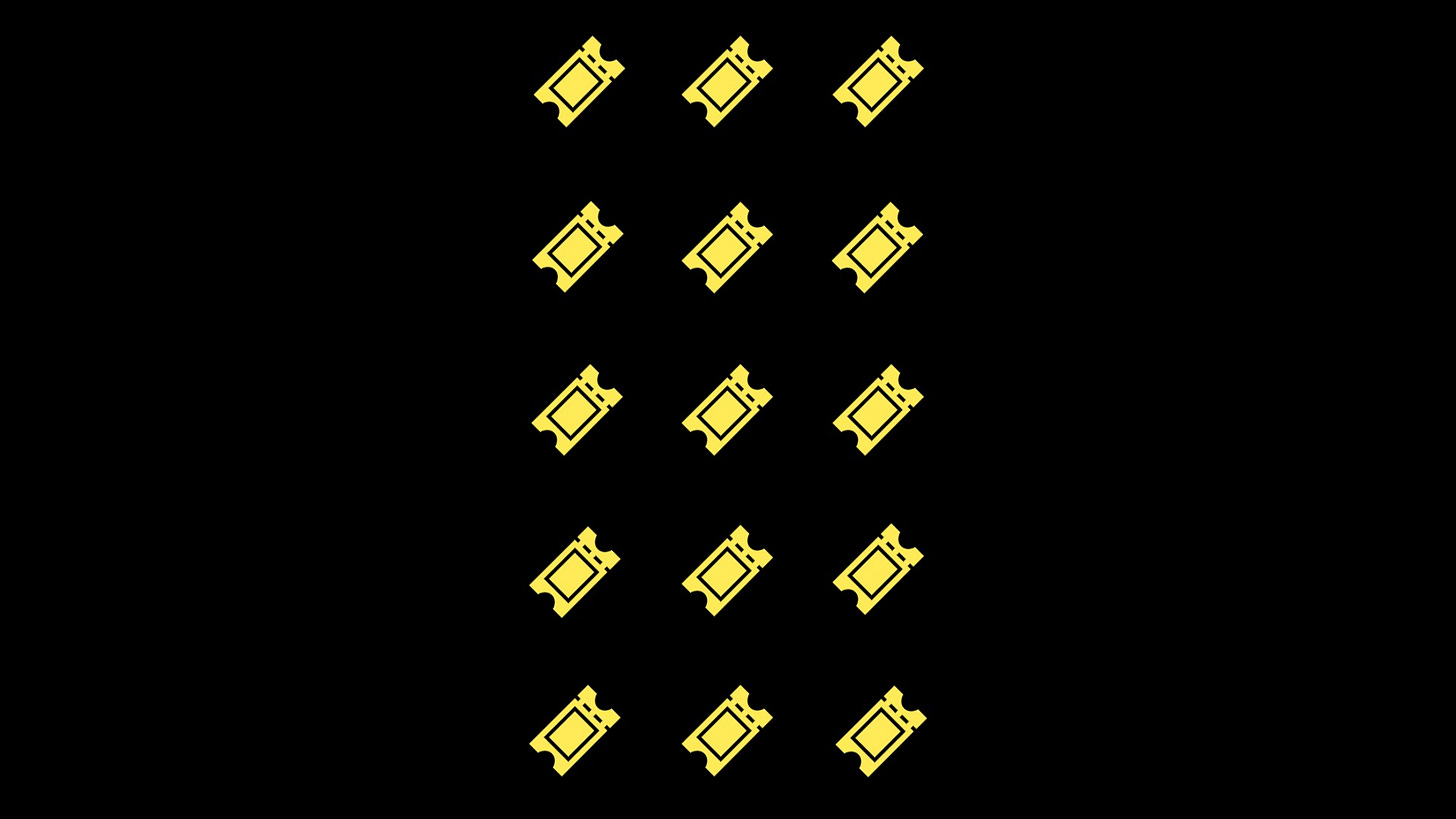 In 2018, I had one of the most galaxy-brain interviews of my career.
Shouting over the loud trance music at a sweltering hot E3 event, Jade Raymond shared her extraordinarily ambitious visions for the future of video games. Raymond was then senior vice president and group general manager at Electronic Arts, overseeing a mysterious and seemingly well-funded studio called EA Motive. Their goal was to make video game stories as malleable and interactive as any other thing we do in virtual worlds. You know, like shooting and killing.
Raymond compared the next generation of games to neighborhood bars, places where people would congregate, and both participate in and share their own stories. She succinctly called the formula an "anecdote factory."
The approach to story in that context is where I think a lot of the innovation lies. It is kind of the holy grail of gaming that everyone from Ken Levine to Clint Hocking to Doug Church to everyone ... people have been talking about it forever. And then, what does it mean in a social context is even more of a question.
Raymond was referencing nascent projects that still haven't appeared on store shelves, like Ken Levine's plan for a narrative that's constructed like Legos, and Clint Hocking's spin on Watch Dogs 3, an open world in which nearly every character is playable and has a backstory.
But those are more-or-less single-player experiences. Raymond dreamt of an even further step into the future of game narrative, in which players and game creators are creating stories together within living virtual worlds.
She gave an example of how a video game storyteller could use player data and behavior to produce a shocking twist in their story, and I've never forgotten its audacity:
For example, if you take Game of Thrones, you know let's say at one point in the story you're going to have the Red Wedding. You know that at one point some family is all going to be obliterated. You can put these kind of big story beats there in your overall story. Then you could say, we're going to do it based on data.

Let's say you have a traditional faction system and let's say players are really gravitating towards this one family, and they're the most beloved. If you really want to shock the community the most, those are the ones you plug in to kill off — based on who players are really interacting with.
When Raymond shared these visions in 2018, I figured it would be many years before we saw anything approaching this scale and creativity. We've now seen it twice.
The first example is obvious: Fortnite, which has become a metaverse, has had many in-game world-altering events, from cataclysmic shifts that fundamentally change its sprawling island locale, to live concerts that scrap the game's combat and general laws of physics to create communal experiences that border on the hallucinatory. Each new mode added by developer Epic Games blurs the distinction of what Fortnite is: a video game, a chat app, a concert venue, an art installation, a public space. It's always becoming something new, serving its players who flood forums to discuss its thin but persistent story.
So that's the first example: a big company with a ton of money, resources, and product solutions did something unprecedented.
The second example, which has consumed my Twitter timeline in the past couple of weeks, comes from the far humbler origins of an indie studio named The Game Band. Their latest project, Blaseball, is a scrappy text-only baseball simulation, and it's telling one of the best stories in video games this year. Maybe any year.
On the surface, Blaseball is simple: It's fantasy baseball… with a twist.
A league of fictional baseball teams plays simulated games visualized via stats and a live scoreboard. You and a community of players bet on the games and receive coins when you win. You can spend those coins on some pretty standard video games stuff, like upping the number of coins you can bet each game.
Or you can spend the coins on some non-standard stuff like Votes, which fundamentally change the rules of the game and the fictional universe. Perhaps you will be enticed to vote for the Blessings of Blood Sacrifice: "Your team sacrifices a fan from the stands. The Gods show you favor. Your team will win all tiebreakers."
Or you can spend the coins on even stranger, opaque options, like "Peanuts." Or opening "the Book."
Here's a nugget from Eric Van Allen's explainer at US Gamer:
Blaseball's meta-game is a player-driven fiction, where the gamblers of the league are also using the coins earned from games to drive where its future is headed. It's like a cooperative exercise in fiction, and those who have been participating in the deeper aspects of Blaseball are buying in.

On the official Blaseball Discord, players share theories and lore. Sometimes it's about forbidden knowledge and indecipherable runes, and other times, it's about a rogue umpire and the incineration of the Miami Dalé's pitcher.

It goes even deeper when you head over to the burgeoning Blaseball wiki and uncover even more info. While the surface level is pure baseball, Blaseball gets more and more bizarre the more layers you peel back.
You can read the entire story of the recently concluded second season of blaseball. Or you can just take a look at this tweet of fan art and see communal storytelling in action:
Blaseball is delivering on Raymond's idea for the future of storytelling, and it's doing so by cutting away all the things big-budget games assume to be essential: realistic worlds, beautiful graphics, in-game chat clients.
I think Blaseball works because it lacks those things. It meets players where they already are, on Discord and in wikis. And without graphics and mountains of dialogue, it leaves plenty of blank space for players to add color and flourishes.
At Polygon, Sam Greszes wrote a fantastic feature on how monumental and communal this project has become in such a short time:
It's very important to The Game Band that regardless of the community canon or the Blaseball Gods' lore, every single fan of the splort can have their own personal headcanon, and that means that the entire community is essentially creating the game. Blaseball is, in effect, a massively collaborative creative writing project, and we all have the unique, special ability to write its story together, filling in the blanks that the box score can't show. 
It's too early to say if Blaseball is the game of the year, but here's one thing I know for sure: bigger, fancier, better-funded games will be trying to recreate this magic for the next decade. For now, you can enjoy it for free in your browser.
---
Free Game of the Week
Developer: Hollow Ponds, Richard Hogg, Publisher: Finji
Polygon's Senior Video Producer Simone de Rochefort has been praising Wilmot's Warehouse, a chill puzzle game about maintaining a minimalistic warehouse, for nearly a year. It's free this week on Epic Games Store, so now I have no more excuses. Time to embrace my inner-organizer.
---
Four games to play
Fall Guys: Ultimate Knockout
Developer: Meiatonic, Publisher: Devolver Digital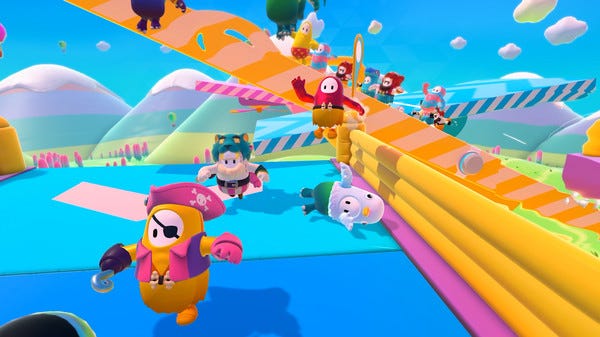 I have no doubt we'll be talking about Fall Guys for months. The multiplayer game is an oasis in a desert of battle royale shooters. It's colorful, playful, and, as far as I can tell, not very fair. I am smitten.
Here's Keith Stuart at The Guardian explaining its similarities to popular games shows (and its natural fit on streaming platforms):
Fall Guys is raucous, ridiculous fun. Some players will be reminded of 1970s family gameshow It's a Knockout, while others will see a resemblance to Takeshi's Castle: both involved the ritual humiliation of participants through zany tasks and both featured a compelling mix of knockabout comedy and sociopathic competitiveness. Fall Guys is the perfect heir to those legacies for the broadband generation, a game made for Twitch and YouTube streaming.
I'm excited to see how players develop strategies and means of communication as the game grows.
Fall Guys is available on PC and PlayStation 4 and included for free with PlayStation Plus.
Panzer Paladin
Developer: Tribute Games, Publisher: Tribute Games,
The recipe for Panzer Paladin.
Three parts Mega Man

Two parts Master Blaster

A pinch of Shovel Knight
Mix well and serve hot.
One of my favorite critics, Christian Donlan, describes the game more elegantly at Eurogamer:
Panzer Paladin is one of those faux-8-bit throwbacks that exists to remind you that faux-8-bit throwbacks can be great. It's a chummy muddle of influences - you can do a bounce attack move that reminds me of Duck Tales (and by extension Shovel Knight) and you can tackle stages in any order like Mega Man. That said, it's never just its influences. This game has hooked me in deep. It's special.
Panzer Paladin is available on Nintendo Switch and PC.
Skater XL
Developer and publisher: East Day Studios Pty Ltd.
For Paste, Cole Henry wrote a lovely review of Skater XL and the very spirit of skateboarding.
It just feels right to have a game like this again. Skateboarding is an artform turned into a sport and Skater XL does its best to embrace those conflicting ideals. Those fracture points are where the game is at its lowest, but just cruising city streets looking for a new spot to become the canvas to your board's paintbrush is the most fun and relaxing experience I've had with a videogame this year.
Critic Cameron Kunzelman has an opposing take in this thread:
Skater XL is available on Xbox One, PS4, and PC.
Horizon Zero Dawn is now on PC
Developer: Guerrilla, Publisher: PlayStation Mobile, Inc.
Horizon Zero Dawn was the culmination of a specific era of open-world video games. Unfortunately, it arrived the same year that The Legend of Zelda: The Breath of the Wild upended the genre. The PC release is Grade A, and an excellent excuse to try the game if you missed it the first go-round.
Horizon Zero Dawn is available on PS4 and PC.
---
Four stories to read
This Is Not a Game
: Conspiracy theorizing as alternate-reality game
Jon Glover via Real Life Mag
Trying to summarize this essay with a single graph proved impossible, so instead, here's the entry point:
More specifically, one can see contemporary conspiracy theories like Pizzagate and QAnon as mimicking the structure of alternate reality games, in which authors and players collaborate in various media forms (message boards, email chains, social media platforms) to spread rumors, clues, and puzzles for participants to investigate together. The experience spills into physical space through meetups where participants can share information, printed pamphlets that extend the narrative, and "legend tripping," which refers to searching for clues at designated geographic locations. One can even find oneself "playing" an ARG without even knowing it, as these crowd-sourced fictions aim to blend seamlessly into the player's reality. Such blurring of story and reality is intrinsic to the unique forms of fun and pleasure these games tap into.

This creative approach to interactive storytelling and cooperative play, which emerged with the new technological capabilities of the 1990s, seemed innocent enough when it was adapted for use in viral marketing campaigns for movies (AI, The Dark Knight), games (Halo 2), and albums (Nine Inch Nails' Year Zero). These corporate ARGs sought to reclaim marketing dominance in a crowded attention economy. "Marketers were already encountering a growing problem," Frank Rose explains in The Art of Immersion (2011): "how to reach people so media saturated that they block any attempt to get through." But when ARG-like structures enter the political sphere, their implications can become dangerous, as not only coronavirus disinformation but also Q-inspired shootings and murder plots demonstrate. (The FBI has even labeled QAnon a domestic terror threat.)
Charlie Warzel took a similar approach recently at The New York Times, interviewing alternate reality game designer and Six to Star CEO Adrian Hon.
In your piece you suggest that alternate reality games "reward active discovery, the drawing of connections between clues, the delicious sensation of a hunch that pays off after hours or days of work." How does QAnon do that?

There are a certain type of people who are attracted to alternate reality games and they are quite devoted. They like puzzle solving in the same way people like murder mysteries or crossword puzzles. As game designers we encourage that mind-set. We provide extremely difficult tasks that only 1 in 1,000 people could solve. And we do that because that one person who can solve it will feel like a hero because this weird talent they have is put to use. Alternate reality game designers like to reward its community for niche skills.

This is at play in QAnon. Many people feel alienated and left behind by the world. There's something about QAnon like ARGs that reward and involve people for being who they are. They create a community that lets people show off their "research" skills and those people become incredibly valuable to the community.
And Hon wrote his own piece that provides some fascinating history of ARGs and a this-would-be-funny-if-it-weren't-so-terrifying visualization of the "Q-web."
Oma Keeling via UppercutCrit
This essay from Oma Keeling starts as a critique of a free mobile game and becomes so much more, looping the US history of prison labor, the failings of for-profit prison structure, the wild financial success of prison simulation games, and the racism that binds them together.
The original prisons you work with in game violate almost all possible codes in the UN's outlines for treating prisoners.
Rebekah Valentine via GamesIndustry.biz
Strauss Zelnick's company publishes games like Red Dead Redemption, Grand Theft Auto V, NBA 2K, and Borderlands. His words are a grim sign for brick-and-mortar video game chains like GameStop. Rebekah Valentine spoke with Zelnick ahead of the company's recent release of its earnings for Q1 of fiscal 2021.
"I've made no secret of my belief that over time, this is a digitally-delivered business. But right now, physical distribution is still a very important part of the business, and physical retailers are our partners and we see them as very important industry partners. […] But over time, I think if you look at every other entertainment medium, it's a matter of time before the business is entirely digital."
As Valentine documents in the report, Take-Two made a whole lot of money in digital sales this quarter. Ya know, Zelnick may be on to something.
Rob Fahey via GamesIndustry.biz
Don't get too excited about the 2020 video game industry revenue spike.
Things are not the same this time around. The games business hasn't really been "recession-proof" for quite some time, and COVID-19 is shaping up to create what may be the sharpest economic contraction in history, as well as creating a tough climate for many of the activities upon which the industry relies. This quarter's financial results are certainly sweet, but they're a sugar rush; it would be foolish to assume that the crash from this high isn't coming, or that the booming revenues we saw as the pandemic's effects started to be felt indicate that the games business is going to walk away from this unscathed.
---
Three videos to watch
The intimacy of everyday objects
Jacob Geller via YouTube
Who put all these banjos in my sci-fi game?
Polygon via YouTube
Spelunky 2 gets a trailer — and a release date!
PlayStation via YouTube
Sept. 15, 2020!
I love this style of trailer, in which the game maker explains what makes the game unique, and why they made certain creative decisions. It feels sincere and transparent, plus it spotlights little details I'd otherwise miss. More of this, please!
---
The best of the rest
---
Ephemera
Jason Parham via Wired
The best piece I read this week, it details the history of TikTok, how the app uses Black cultural expression as a growth "accelerant," and how the service and its creators routinely steal from and profit off its community of Black creators.
Over a period of two months, I heard from 29 Black creators who shared stories about muted posts, in-app harassment, and incidents of racism. They said the problems on the app are deeper and more widespread than simple isolated incidents. "Ever since I joined I've felt like the app is against me," one told me. Another added, "It's disgusting how much they have allowed to go unchecked." Together, their experiences belie the perception of TikTok as an app of joy and creativity, revealing instead a place tangled up in an ancient pain—a site of blurred visions and youthful ignorances, where flattery quickly turns into mockery, mockery into theft, and theft into something altogether more disturbing.
2020 is bad. Animals are good.
It's
my father-in-law's 70th birthday
, so I figured I'd share a story about the first time we met
My wife Stephie had told me so many beautiful things about my father-in-law Charlie before I first met him. He's an active listener and a great storyteller. He's fiercely protective of his family and a loyal friend. He champions righteous causes and has no tolerance for the malicious and bigoted. So when I sat across the table from him in a West Village Thai restaurant, I thought I was in for a pleasant evening. And it was enjoyable for a moment. We all ordered our favorite dishes, and Charlie encouraged me to order a drink, despite him not being a big drinker. A promising start.
I excused myself to wash my hands as the waiter placed our food on the table. Four minutes. I stepped away for no more than four minutes tops, and in that window, Charlie ate my entire dish of pad see ew. I assumed he must be peacocking, an alpha male intimidating the new boyfriend who would eventually become his future son-in-law.
I sunk into my chair and pouted. So this is how it would be. 
From that point onward, I carried a grudge against my new nemesis. Sure, he was kind enough. He listened and told hilarious stories — often many times! And yeah, I could see he protected Stephie, Anne, and his siblings like a very anxious hawk, ever watchful from the glasses perched on his nose. As I met his friends over the years, I heard all sorts of flattering stories, too. How did he survive that night in Denmark? He met who in Israel?
After a decade, I can attest that at his core, Charlie is a profoundly caring, generous, loving, and morally-centered person. He's as good a father-in-law as a guy I could ask for.
But he ate my pad see ew while I was in the bathroom.
So, on this special occasion, I'm giving Charlie, my father-in-law, and nemesis, the greatest gift I can provide: forgiveness. I will never get that Thai dinner back, but I guess having Charlie in my life is just as good. Maybe a little better.
But what do you think?
Send links, tips, comments, questions, games, and cat GIFs to @plante.